UNDERSTANDING EMPLOYEES IS THE FUTURE OF WORK
A uniquely human workforce is the future of work. Workforce retention based on innovative management tools is central to reducing employee turnover and business transformation. For companies looking to make up for post-pandemic financial loss and trauma, a labor shortage is both counter-intuitive and damaging to organizational recovery and resilience. Yet, that's where it stands right now.
Despite what was deemed the worst recession in US history, spurred by the Coronavirus pandemic, the labor market outlook is now positive, according to a September 23, 2021 study by the US Bureau of Labor Statistics: "Total U.S. employment is projected to grow from 153.5 million to 165.4 million from 2020 to 2030, an increase of 11.9 million jobs, or 7.7 percent."
With job growth on the horizon, employees who stayed in jobs throughout the pandemic despite a desire to leave, have the opportunity to do just that. According to a Microsoft 365 Study, "41% of employees are considering leaving their current employer this year. Business Insider writers Juliana Kaplan and Andy Kiersz, cited in their September 8th article: "In July, 3.98 million workers quit their jobs, an increase from 3.87 million in June. That came in slightly below April's record-breaking 3.99 million quits, the highest level since the bureau began tracking the data in 2000."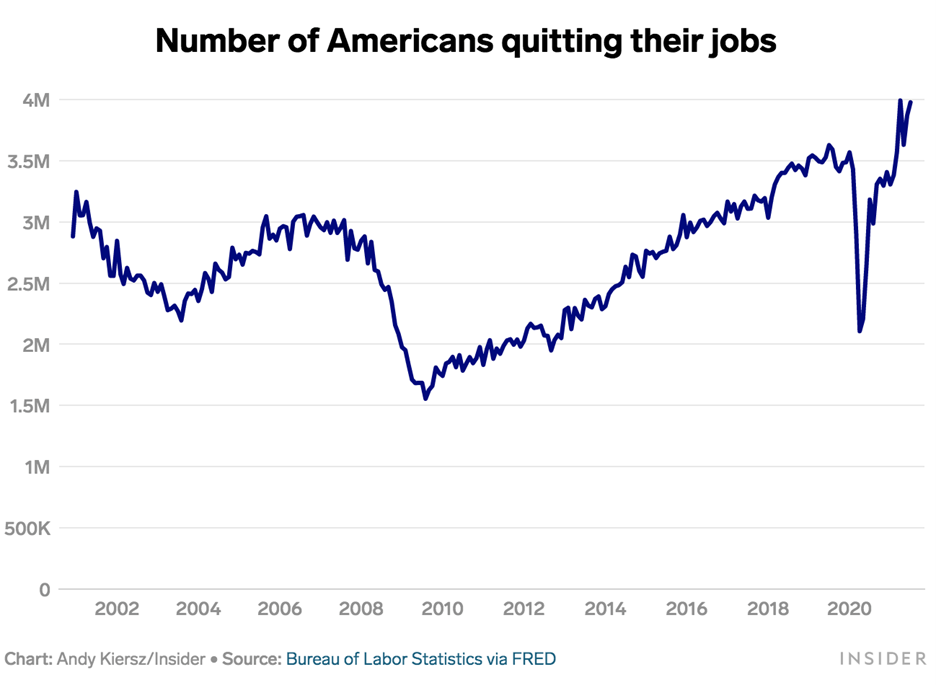 The question is, "why?"
Let's first look at what factors encourage an employee to stay, or what motivates them to bring their best selves to work. Future of Work Expert, Kim Seeling Smith, identifies these as The Nine Currencies of Choice, detailed in her Fast Company article, "I spoke with 5,000 people and these are the reasons they're quitting," By way of what she calls, reverse engineering; conducting 5,000 exit interviews in a fifteen-year period of time offered an employee retention blueprint:
People want to work for a company whose values align with their own

People want to work for someone they trust and respect

People want to work with people they like

People want to be appreciated in a way that's appropriate to them

People want to have a voice

They want to know what they need to do to succeed and how that success will be measured

People want to learn, grow, and develop in their careers

People want to be inspired to go the extra mile

People want to spend most of their day doing work they love
Distilled, the same Microsoft Study (noted earlier), the number two trend is, "Leaders are out of touch with employees and need a wake-up call."
The essence of this employee satisfaction benchmark presents an overriding theme: know the person who is your employee: what drives their best work. It comes down to values. Theirs. The reflection of value derived from uniquely treated people transfers to the employer who understands the deficit of employee churn to organizational financial stability and growth.
People-centered work demands insights into individuals to help managers optimize team talent with an employee engagement strategy. Remote work and the evolving workforce architecture that is moving from a vertical and hierarchical structure to one that is horizontal and cross-functional, requires employers to find alternative ways to manage employees.
"We don't live in a one-size-fits-all world anymore so we can't expect our workforce to thrive if we treat all employees the same. The future of work is uniquely human, and while Tambr is built on artificial intelligence and machine learning, at its core it is fundamentally about people. That it can be simply integrated, is non-invasive, and unbiased is only important because it has the power to help individuals thrive by optimizing their talents. This is the next phase in Human Capital and it will be truly transformative," said Corey Norman, Vice-President of Customer Engagement and Innovation at Hunova.
Getting the best work from an employee necessitates a different set of management tools now that will differ from employee to employee. Teams have been siloed as a result of the pandemic, and managers don't have the spontaneous facetime at the coffee machine or passing in the hallway, to check in with team members – not just on the tasks at hand but to get a read on how that employee is coping on a deeper level with the joys and challenges of both personal and work life. Those small moments are also opportunities. Ideas are the seeds of innovation and the social capital of those small business moments, creates vast potential for organizational growth.
As a writer and remote worker, my most visited remark on the topic in support of remote work is that I've never had a good idea sitting in front of my computer. What I mean is a big idea. Collaboration and relaxed social engagement amid grinding out work is valuable to the individual, the organization, and the business outcomes that lead to success.
Jared Spataro, CVP at Microsoft 365 expresses it clearly: "Those impromptu encounters at the office help keep leaders honest. With remote work, there are fewer chances to ask employees, "Hey, how are you?" and then pick up on important cues as they respond. But the data is clear: our people are struggling. And we need to find new ways to help them."
That's no small task when organizations are tackling financial recovery, the hybrid office structure, and staying competitive within a vertical that demands digital fluency and highly responsive change. A study from Boston Consulting Group (BCG) and The World Federation of People Management Associations (WFPMA) clarifies this in a June 2021 study, "The Future of People Management Priorities." The first of the five priorities: "Put employees at the center. Continuously listen to and collect feedback from employees to focus HR work on what they really need; upgrade employee journeys and organize HR workflows from their point of view; and individualize career paths and learning opportunities."
Tambr is a critical piece of the puzzle toward that objective. Uniquely treated people thrive with adjustments to the environment. Tambr is a tool that fosters people-centered work. Organizational transformation can only occur by treating the underlying issues. Without tools to achieve that end, employers treat the symptoms and mask organizational problems that become systemic, like workers quitting their jobs en masse. Tambr can help target, sustain, and nurture talent, easing the path toward organizational growth.
Hunova is an enterprise insights and solution tool based on people analytics including relationships, skills, psychometrics, and work style preferences, offering unbiased and validated data on human capital. Our products provide far reaching organizational benefits across every segment of teams, management and individuals.
Contact us for more information on Hunova's enterprise solutions.